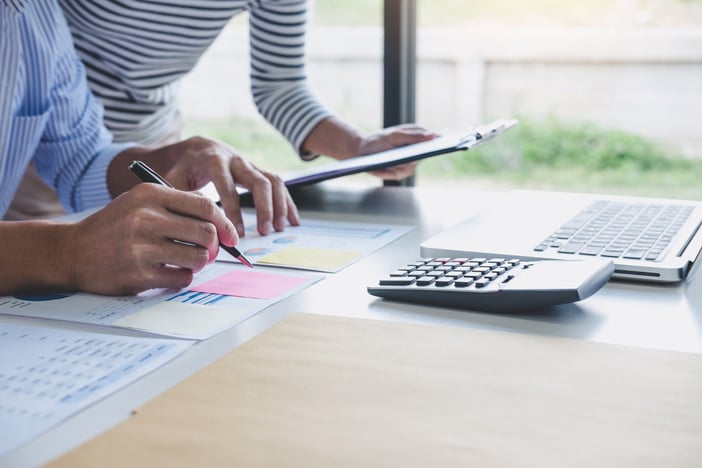 Taxes are no longer something you can do once a year. If you want to ensure you have mastered your cash flow, then quarterly taxes are something that can help you do this.

Although it might seem like a bit of a chore, there are many upsides. Paying your taxes quarterly allows you to spread the responsibility over the year so you don't experience any challenges with your cash flow, and you can make sure you don't have a huge bill to pay in April. Here we're going to look at how quarterly taxes work and what you should know.
Who Might Have To Pay Quarterly Taxes?
An independent contractor
Somebody who works in a trade or field as a sole proprietor
Somebody who is a member of a partnership or S-corporation, such as an LLC
Somebody who runs a business on their own, including a part-time business

Making Quarterly Taxes Manageable
Getting a system in place to make this new way of paying taxes manageable is absolutely key. We recommend opening up a separate bank account so you can put money in there regularly and ensure you never have to fork out for a huge bill that creeps up on you.
Do You Have To Pay Quarterly Taxes?
Normal withholding taxes include social security, medicare, and income tax. There are a few qualifiers that can help to distinguish whether you need to pay quarterly income tax. It may depend on your income. For example, an individual who is expected to owe less than $1,000 in taxes after subtracting federal income tax does not have to pay quarterly tax. It's also worth noting that if your federal tax withholdings equal 90% or more of what you will owe for the year, you probably won't need to file quarterly taxes.
Quarterly Tax Payment Due Dates:
1st Quarter: April 15th
2nd Quarter: June 15th
3rd Quarter: September 15th
4th Quarter: January 15th

Don't forget about other important tax deadlines too.
How To Calculate Your Taxable Income
To calculate your taxable income as a business owner, start by taking your annual gross income and deduct expenses, as well as any deductions you're eligible for. Multiply that by your ownership in the business. Then you'll need to add any other individual income you (and your spouse) might have. Think interest, dividends, W2's, capital gains, etc.

When you have an estimate, divide that number by 4 and then submit your payments by the due dates.

If something significantly changes in your income or expenses during the year, this will impact the quarterly payments you must make, so keep this in mind. Maybe you get a contract that vastly increases your income, or you lose a big customer. In cases such as this you will need to adjust your quarterly payments to ensure you're paying the right amount.
Submitting Your Quarterly Payments
Once you have your numbers all worked out, you can submit them online at https://www.irs.gov/payments or using Form 1040-ES and mailing a check. Then when you file your annual tax return in April, you will pay the difference between what actually happened and what you've already paid (sometimes this means you pay and sometimes this means you get a refund!)
What If You Don't Pay Quarterly Estimated Taxes?
If you don't pay your quarterly estimated taxes or you pay too little, you may be penalized. Although your taxes are estimated, you can typically avoid penalties by making sure you pay a minimum of the same amount in taxes you earned last year. So, for example, if you paid $3000 last year, you can make sure you pay this amount in total over each quarter. You shouldn't be penalized if you make sure you do this. However, it's worth bearing in mind that if you make a lot more than last year you may still end up paying a huge tax bill on top of your quarterly payments when April rolls around. Certain rules apply here. Let us know your specific circumstances.