Understanding the purpose of a tax form or schedule is never a pleasant experience. That's why we created a comprehensive tax form library, showcasing the most frequently used tax forms and schedules you may encounter. We believe the process of staying compliant with your taxes should be as effortless as possible.
General Information
What is the form number? Form 5500
What government agency is it filed with? The Internal Revenue Service (IRS)
What is the form name? Annual Return/Report of Employee Benefit Plan
What is this form about? The Form 5500 Series is an important compliance, research, and disclosure tool for the Department of Labor, a disclosure document for plan participants and beneficiaries, and a source of information and data for use by other Federal agencies, Congress, and the private sector in assessing employee benefit, tax, and economic trends and policies. The Form 5500 Series is part of ERISA's overall reporting and disclosure framework, which is intended to assure that employee benefit plans are operated and managed in accordance with certain prescribed standards and that participants and beneficiaries, as well as regulators, are provided or have access to sufficient information to protect the rights and benefits of participants and beneficiaries under employee benefit plans.

What does it look like?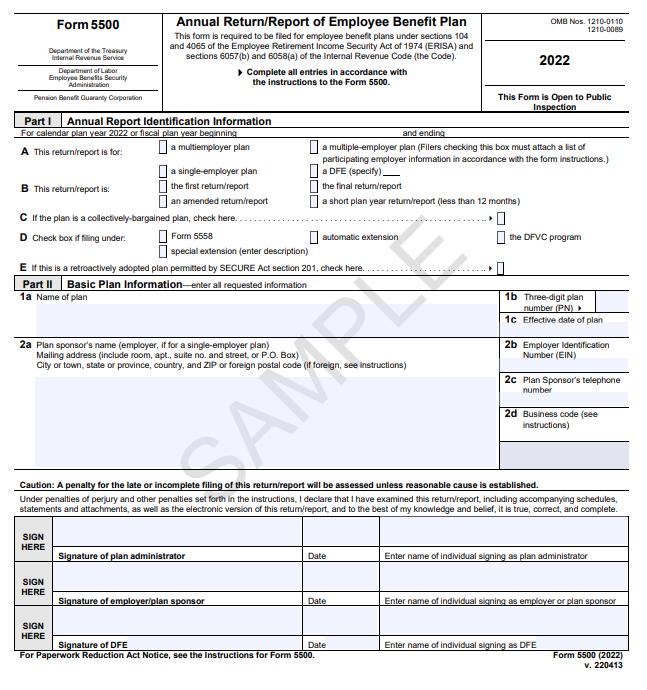 Resources
Looking for more information about this form? Here are some helpful resources:
How can we help you today?
Looking for more information about this or other tax forms? The tax team at DiMercurio Advisors are tax compliance experts. We are passionate about ensuring you are well-informed and in control of your tax situation.